OFFICIAL CLASS of 1969 WEBSITE
The year the "Rowdies" were hatched!
Memories from 1969
Kearney Public Schools Then and Now
Kearney High School (KHS) had 1,133 students (9th-12th grade) in 1969, compared with 1,407 students in 2009.
Whittier Elementary School is now a Kearney Public Schools administration building.
Kearney Junior High is now Central Elementary School.
Kearney Junior High Auditorium is now the Merryman Performing Arts Center.
Kearney Public Schools now has 3 preschools, 12 elementary schools, 2 middle schools (Horizon and Sunrise), but still has only 1 high school.
The KHS Class of 1969 had 242 graduates, compared to 333 graduates in 2009, 40 years later. Festivities in the spring of 1969 for seniors:
Senior Banquet and Prom - Saturday, May 3, 1969 Theme: Up, Up and Away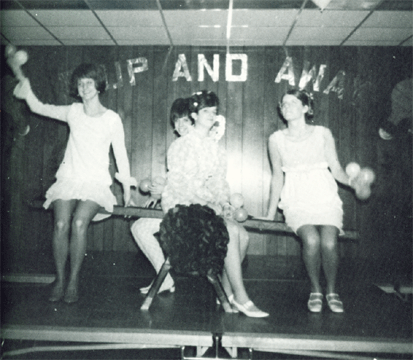 Bacculaureate - Saturday, May 25, 1969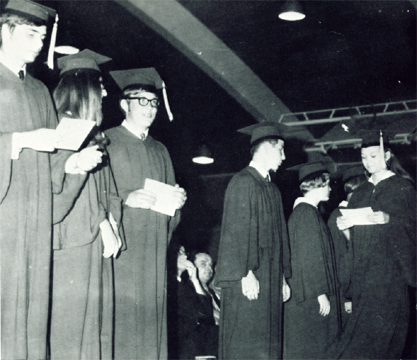 Graduation Ceremony - Sunday, May 26, 1969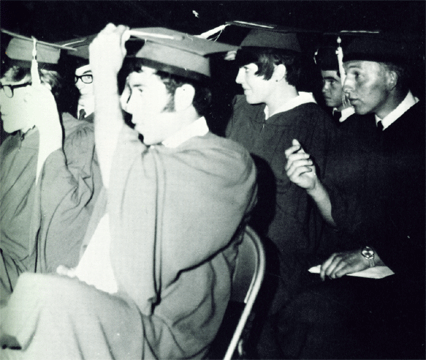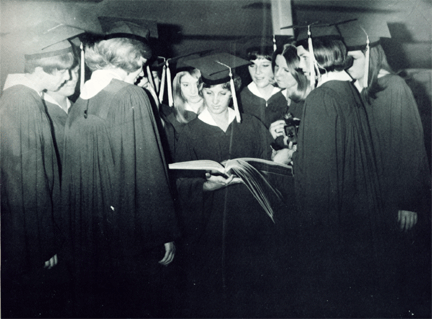 Scholastic and Leadership Achievements in 1969
DAR Award
First Place: Sarah Shofstall
Second Place: Sue Spracklen
Third Place: Georgenne Parker
Elks Most Valuable Student Award
Four-Year Regents Scholarship Recipients
Ken Campbell
Mary McKinney
National Merit Finalists
Ken Campbell
Mary McKinney
Organizations in 1969
Band and Orchestra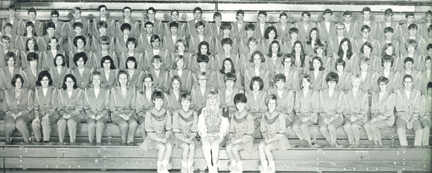 President: Dick Hindalong
Orchestra Vice President: Terry Yost
Band Vice President: Bob Elliott
Band Secretary: Dana Hendricksen
Bearcat Booster Club
President: Terry Yost
Vice President: Judy Beekman
Historian: Nanette Oman
Treasurer: Sally Johnson
Secretary: Sue Lancaster
Choir
President: Roy Livingston
Vice President: Carla Van Zandbergen
Secretary: Carla Coppel
Librarian: Janet Browne
Distributive Education Club of America (DECA)
President: Kathy Gregg
Vice President: Jack Karenbauer
Secretary: Mary Grimes
Treasurer: Gale Epp
Historian: Morris Motes
Reporter: Bob Kincaid
Drama Club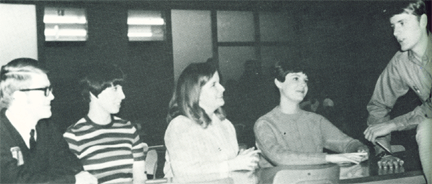 President: Jeff Ayers
Vice President: Nancy Lane
Secretary: Candi Imming
Coordinators: Sarah Shofstall, Phil Holmgren
ECHO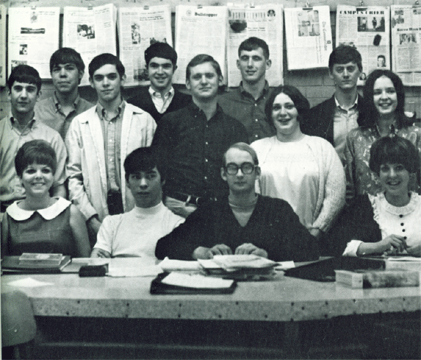 Editor: John Wolf
Business Manager: Celia Hoffman
Advertising Designers: Jeff Ayers, Susan Dage
Sports Editors: Bob Elliott, Wayne Garrelts
Photographer: Russ Best
French Club
Vice President: Georgenne Parker
Girls Athletic Association (GAA)
President: Marcella Daake
Vice President: Bobbi McGuigan
Secretary-Recorder: Barb Schroeder
Secretary-Treasurer: Carol Ninegar
K-Club
President: Randy Rayback
Vice President: Dick Barney
LOG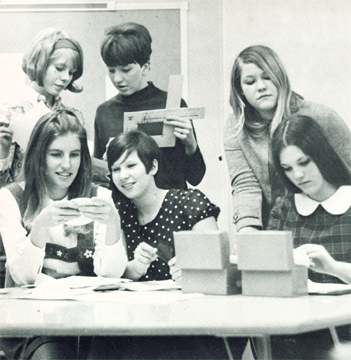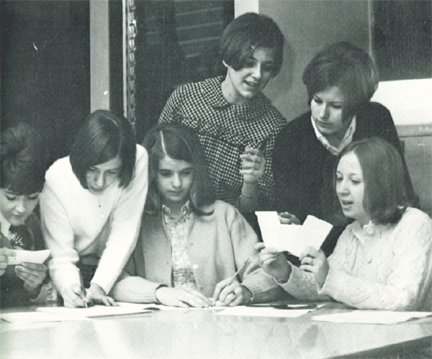 Editor: Debbie Lewis
Copy Editor: Georgenne Parker
Photo Editor: Mary McKinney
Promotion Manager: Janelle Pacha
Senior Staff Editors: Laurie Bragg, Mary Sue Gaer, Elaine Isom, Kris Krumland, Nancy Lane, Betty Lindholm, Kathy Moffett, Nancy Rogers, Karen Shafer, Mary Louise Steffens, Kay Stehlik, Ted Venema, Vicki Wells
Photographers: Russ Best, Tom Bixby, Pat Gifford
National Forensic League
President: Russ Best
Vice President: Kathy Morrison
Senior Class Officers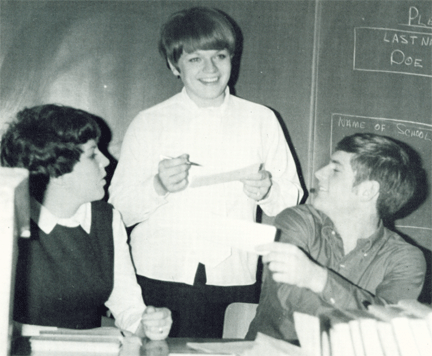 President: Jeff Ayers
Vice President: Carla Van Zandbergen
Secretary: Janet Browne
Spanish Club
Student Advisory Board
President: Jerry Foote
Vice President: Jerome Howe
Secretary: Karen Shafer
Senior Members: Candi Imming, Debbir Mahrt, Mary McKinney, John Wolf
Thespians
President: Jeff Ayers
Vice President: Nancy Lane
Youth Center Council
President: Roy Nelson
Vice President: Ken Campbell
Secretary: Debbie Lewis
Y-Teens
President: Celia Hoffman
Historian: Mary McKinney
Varsity Cheerleaders
Head Cheerleader: Carol Cullen
Cheerleaders: Patti Barney, Tami Bowman, Carla Coppel, Cindy Hauver, Kris Krumland
Reserve Cheerleaders
Head Cheerleader: Pam Porter
Cheerleaders: Kimi Cushing, Janie Hellman, Sondra Wilmot
Drum Majorette and Majorettes
Drum Majorette: Rhonda Vires
Head Majorette: Nancy Rogers
Majorettes: Jeanne Anderson, Darla Lewis, Jackie Ransom, Vickie Richardson, Terry Yost
Drill Team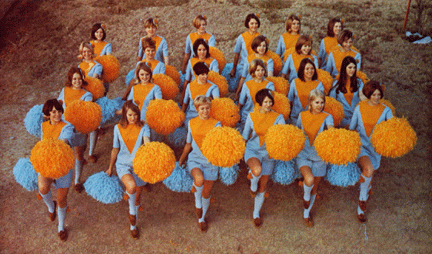 Captain: Janelle Pacha
Members: Pam Ball, Ann Beckman, Laurie Bragg, Ann Chamberlain, Mary Sue Gaer, Pat Gifford, Sue Lancaster, Nancy Lane, Debbie Lewis, Martha McConnell, Cindy McCoy, Mary McKinney, Sue Merboth, Terri Moore, Nanette Oman, Chris Roland, Belinda Rude, Kathy Staley, Mary Louise Steffens, Kay Stehlik, Ramona Styskal, Vicki Wells, Sherri Wilson, Candi Imming
Color Week Royalty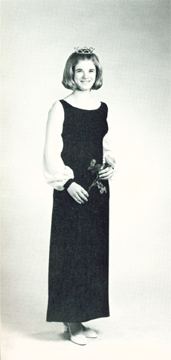 Queen: Mary Louise Steffens
Junior Attendant: Carla Coppel
Sophomore Attendant: Jane Hellman
Christmas Ball Royalty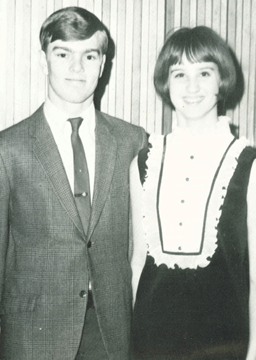 Beau: Randy Rayback
Belle: Terry Yost
Betty Crocker Homemaker Award
Athletic Achievements in 1969
FOOTBALL- Record 4-4-1 (13 points from being 7-2) All Conference- Gary Reynolds,
Mike Cleland, Mike Sikes, Randy Rayback, Wayne Garrelts, Honorabale
mention, Tom Bixby
2nd Place West Big Ten to Scottsbluff
BASKETBALL- Record, a perfect season of 0-19! But only three '69ers were on the
team. All-Conference-Tom Bixby, Honorable Mention-Jerry Foote
THE BIRTH OF THE ROWDIES - January 1969
CROSS COUNTRY- Meet Records-1 First place, 1 second place, 4 third place, and 2
fourth place finishes! Led by seniors, Lanny Randolph, Ron Eilers, Dan
Snowden, and Doug Wilson
WRESTLING- 4-2 Dual Record, Runner-ups in Conference and District Meets, 7th in
State Meet, State Gold MedalChampion-Gale Epp (133 lbs) and State
Silver Medalist, Ron Eilers (120 lbs)
GOLF- 9th in Conference Meet and but 7th in District meet falling just short in qualifying
for State, led by senior lettermen, Eric Boshart, Dick Barney, and John Wolf
TENNIS- First fall tennis season, 1-3 Dual Record, but 2nd in Big Ten and State Meets
Led by Tom Deyle. Tom Deyle and Dave Shonkwiler tied for the Big Ten Championship and placed 2nd at State in Doubles.
TRACK- 5th in Conference and District Meets, John Divan loner
State Meet (held at KSC
record(6
Lanny Randolph, and Tom Bixby
GIRLS TRACK- Yes, that is correct, it was the FIRST KHS girls track team, had two
meets, finishing 3rd in first triangular! Girls at this time were not allowed
to compete in long distance running, nothing a mile or farther! Times
have changed, RIGHT??!!
Post Script: The 68-69 Bearcat Squads may not have required the school district to
petition for a bond issue to add on to the trophy room at KHS, but there were great
games, great efforts, talented individual athletes, but probably most of all, there were
bonds and friendships that have lasted a lifetime! Long after all the records, trophies,
medals are forgotten, these will still remain!! YOU 69ers have left a legacy that no other
KHS class can claim, no not the perfect BB season!!, but THE ROWDIES!! Although
some others have tried, no other class can lay claim to the birth of the Rowdies! A
legend still alive!! Please read my co-editor
girls track team, and first fall tennis season are also some KHS sports landmarks! We
can all be proud of our high school Bearcat accomplishments!!!
Local Rock Bands
Beggar's Opera - Ken Campbell, Wray Cummings, Tim Flesner, Dennis Morrison, Bob Westerlin
Sunny Funny Company - Dick Albrecht, Wally Helton, Rick Houchin, Mike Loveless
Top 10 Hits of 1969
Sugar, Sugar by The Archies
Aquarius/Let The Sunshine In by The 5th Dimension
Honky Tonk Woman by The Rolling Stones
Come Together/Something by The Beatles
Everyday People by Sly & The Family Stone
Crimson And Clover by Tommy James & The Shondells
I Can't Get Next To You by The Temptations
Get Back by The Beatles with Billy Preston
Someday We'll Be Together by Diana Ross & The Supremes
Dizzy by Tommy Roe
Top 9 Movies of 1969
Midnight Cowboy
Butch Cassidy and the Sundance Kid
Easy Rider
The Wild Bunch
Alice's Restaurant
True Grit
The Italian Job
Topaz
Paint Your Wagon
Top 10 TV Shows in 1969
Laugh-In
Gomer Pyle
Bonanza
Mayberry RFD
Family Affair
Gunsmoke
Julia
Dean Martin Show
Here's Lucy
Beverly Hillbillies