OFFICIAL CLASS of 1969 WEBSITE
The year the "Rowdies" were hatched!
In Memory
Dick Albrecht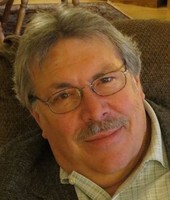 KEARNEY — Richard Dean "Dick" Albrecht, 64, of Kearney died of cancer Thursday, Sept. 3, 2015, at CHI Health Good Samaritan.
The family will plan memorial services later.
O'Brien Straatmann Redinger Funeral Home is in charge of arrangements.
——
He was born April 30, 1951, in Kearney to Harold and Inez (Johnson) Albrecht. He attended Kearney Public Schools and Kearney State College. On Aug. 4, 1977, he married Kaye Linn Golden in Kearney.
Dick took up the drums in his youth and played with several bands during his lifetime, including The Sunny Funny Company, Stillroven and Last Chance. His interest in music led him to a career as a sound engineer. At Stanal Sound, Ego Trips, Clair Brothers and Audio Visions, Dick worked with various artists, including Neil Diamond, John Denver, Bob Dylan, Elton John, Rush, Waylon Jennings, The Who, Stevie Wonder, Dolly Parton, Rickie Lee Jones, The Pointer Sisters and Johnny Cash. His concert tours took him to Europe, South America and Canada, and he traveled the United States extensively.
In 1981 he worked as a sound engineer at Ronald Reagan's presidential inauguration. Arista Records presented Dick with a gold record for his work on Barry Manilow's album, "Live." For a time, he worked as a speaker manufacturer at JBL's Kearney plant. Later, he helped coordinate events at the Viaero Event Center and drove for Sunrise Express.
Dick was a history buff with a particular fascination for the Civil War. He amassed a library consisting of hundreds of volumes on the subject, and his knowledge was extensive. He was an avid reader and enjoyed movie-going with his son. He loved discussing history and politics at great length.
Dick was known for his kindness, integrity, humility and steadfastness. He had a quirky sense of humor and an infectious laugh. He kept his promises, fulfilled his obligations and honored his commitments. He was a man of his word. He was a devoted son, brother, husband, father and friend and had a soft spot in his heart for animals, especially Jefferson and Clovis. He was also a member of First Lutheran Church. Greatly beloved, he will be sorely missed by all who knew him.
Survivors include his wife, Kaye Linn of Kearney; daughter, Molly Barari and husband David of Rapid City, S.D.; son, John Albrecht of Los Angeles; father, Harold Albrecht of Kearney; brother, Dennis Albrecht of Kearney; aunts and uncles, Virginia Lindstrom of Holdrege, Vernon Albrecht and Betty Albrecht, both of Atkinson, and Martha and Wayne Hoxie of Imogene, Iowa; mother-in-law, Dory Golden of Peoria, Ariz.; brothers-in-law and spouses, Kelly and Cindy Golden of Peoria, Tim Golden of Parker, Colo., and Tom and Jenia Golden of Omaha; sister-in-law, Sharon Golden of Omaha; and several cousins, nieces and nephews.
He was preceded in death by his grandparents, Kelpie and Fred Johnson and Amelia and Henry Albrecht; mother, Inez Albrecht; uncles, Morris Lindstrom, John Albrecht, Eddie Albrecht, Arthur Johnson, Harry Johnson and Gene Johnson; aunts, Mina Lammert, Dorothy Gaylord, Hilda Lehl, Alvina Albrecht, Mildred Leach and Mabel Johnson; father-in-law, James Golden; and brother-in-law, Brad Golden.
The family will plan a memorial service in Kearney in a few months and will announce the date when it is determined.