OFFICIAL CLASS of 1969 WEBSITE
The year the "Rowdies" were hatched!
In Memory
Kathy Moffett (Loschen)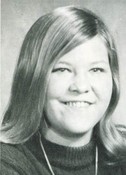 Kathleen A. Moffett Loschen was born November 11, 1951, and passed away on December 14, 2004. She was married to James Loschen, who later passed away on August 25, 2007. Kathleen was living in Juniata, Nebraska, at the time of her death.